Barrier Pouch Bags - Coex and Laminated Pouches for Food, Pharmaceutical, and Special Applications
While the main application of Polynova stand-up barrier pouches is food packaging, there is a whole range of other uses too.
Food pouches
Our barrier films and pouch bags have FDA and CFIA seal of approval. We can meet the most demanding requirements in order that your products are packaged to preserve the nutritional values and good taste of your meals and drinks. Whether the food packaging application is for solid or liquid, frozen, powder or granulated product,we can custom design the perfect solution for you. We have been providing solutions for frozen foods packaging, refreshment drinks pouches, coffee and biscuit bags, to name just a few examples.
There are many special requirements that come into play when providing food packaging solutions. Beyond the rudimentary heat, oxygen / air and moisture barrier properties, we can custom engineer a number of different special properties. Light and ultra-light protection can be provided by metalized barrier film.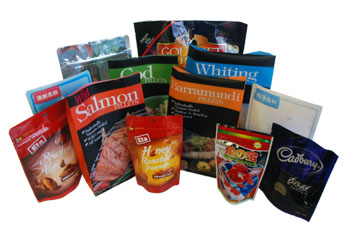 Polynova is known for its retort flexible packaging that replaces metal cans for cooked food storage under room temperatures. We also supply co-extruded film with special sealing layers that can make seals at low temperature and less dwell time, which allow your automated food packaging line to run with the highest efficiency from start to finish.
In addition, our pouch designs can accommodate a range of different closure systems. Click here to view our Product Gallery.
Miscellaneous barrier pouch applications
There are a number of other applications we provide custom engineered, high quality print flexible packaging solutions for.
We also supply barrier pouch packaging for electronics that may require anti-static properties for static and dust protection.
We cater for packaging of cosmetics, soap, detergent and shampoo.
Learn more about why the barrier pouch bags are one of the most sustainable packaging options.
Polynova Barrier pouch packaging applications:
Food pouches: for cheese, smoked fish, noodle, boilable food, curry, liquid food, sauces
Liquid food pouches and spouted beverages pouches: soft drinks, lemonade, milk, soups, sauces
Dry food: tea bag, coffee pouch, spices and flour bags
Sweets: cakes, pastry, candy packaging
Cosmetics pouches: for soap, shampoo, detergent
Pet food: liquid, solid or granulated