Beverage Pouch - Spout Pouch - Manufacturer Serving Canada and the US
Searching for an environmentally friendly beverage pouch manufacturer serving Canada and the US? Take advantage of Polynova's cost effective, easily recyclable spouted beverage pouch. Compared to traditional bottles or cans, Polynova offers an eco-friendly, low carbon footprint solution for all your beverage pouch packaging needs including cocktails and liquors, beer, carbonated drinks or energy drinks (in metallized barrier pouches).
Compared to traditional solutions, our flexible packaging does not have any BPA (Bisphenol A) in its composition which studies indicate contains several cancer causing agents present in most brands of plastic PET bottles. With our strong and durable beverage pouch, made of high barrier property plastic film, your product flavours always stay fresh and tasty.
The Polynova beverage pouch offers greater flexibility for sizes from 50ml to several litres. We also customize your desired closure system: spouted - screw cup, flip top or push pulls – or easy tear open. Our quality designed high gloss print sets you apart from the rest for a prominent, high shelf appeal.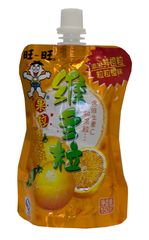 Take advantage of durable Polynova Beverage Pouch Packaging
Custom design: accommodates any shapes, forms and sizes
High-gloss print, high shelf-appeal to maximize your brand appearance
Custom closure systems: spouted - screw cup, flip top or push pulls – or easy tear open
Low carbon footprint, light weight packaging solution
Easy logistics: no bulky packaging to handle; no need of labels and labelling
Very strong and durable packaging; high puncture and abrasion resistance
Made of custom engineered high barrier property plastic film for maximum protection of your product
Meets FDA and CH requirements
No off flavour: your product stay fresh and tasty.
Polynova Inc., located in Richmond BC, Canada is a high quality spouted beverage pouch manufacturer with a full converting line including rotogravure quality print. Polynova customers enjoy superior quality products and a quick response time whether it's a large or small order.
Contact our sales engineers today for all your packaging needs.