Poly Bags for General Applications
Inexpensive packaging solutions with strong, clear presentation of your brand image
Polynova's general application product line consists of packaging solutions for applications where a clear, but low-cost presentation is required. Beside flat poly bags, we supply a number of different low cost poly bag options.
We produce gusseted side seal or bottom seal polyethylene bags and wicket type poly bags for applications where special shape and style required.
For protection against moisture in particular, we offer a re-sealable zip lock poly bag that will keep your goods safe while allowing for easy access when opening and closing.
Our general application poly bags serve a number of industries including agriculture, apparel, bakery, dry cleaning, electronics, fish/seafood, food, hardware, hosiery, hotel, house wares, manufacturing, medical, newspaper, pet food, poultry, promotional, retailing, shoes and trade shows. Click here to view our Gallery.
Polynova offers custom sizes and types of poly bags as well as custom printing. Our in-house vertically integrated production capability allows for low turn-around time, as quick as three to four weeks. The general size range of our offering is 2 to 25 inch width and 2 to 50 inch length. The different plastic film types we use for our general application poly bags include PP, LDPE, HDPE, LLDPE.
All our products can be manufactured by using biodegradable materials, recycled or starch based resins, if the application allows it. In certain situations, if the surface of the plastic packaging material must be made of virgin resin, recycled resin can be used as a middle layer by deploying co-extrusion technology.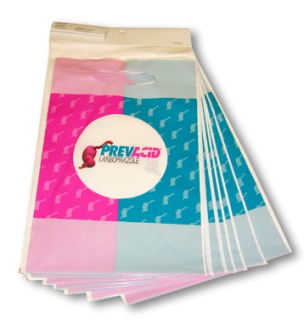 Call Polynova at 800-844-0363 or 604-448-0363 and speak to one of our friendly, knowledgeable team members who will answer your questions and offer advice on the types of general application poly bags best suited for your products or request an estimate online.
General Application poly bags with special closure and packaging features
At Polynova, the products we supply are mostly custom-designed. Even for the most cost effective packaging solution, you may want to have your brand image displayed on the packaging. Also, the product you need to wrap is always different from other products, so our packaging solution is available to you with the options of different shape, sizes, stacking and with different closure options.
The main poly bag types that feature re-closable options are zip-lock bags and the draw string bags. For easy, semi automated product packaging, we offer wicketed bags, or staple bags. Litter bags come with a hole punched on their upper part, so they can be attached to door knobs, or car cigarette igniters. We can also deliver your bags as roll stock and they can be perforated, like the grocery bags, for easy detachment.