Custom Printed Roll Stock Plastic Film
North American supplier of custom barrier film with high quality print
Polynova has distributed high quality custom printed roll stock plastic film products to customers across North America for over 20 years. It provides a wide variety of barrier plastic films from mono layer up to 9 layer co-extruded film and a wide range of laminated film. Most of the film products are used for food packaging applications and the rest goes to special applications like pharmaceutical or electronics packaging.
At Polynova, our vertically integrated converting technology enables us to deliver on very short turn-around times and for some of our clients we provide just-in-time delivery.
One of the cornerstones of our overall competitive edge is the printing technology that allows us to produce leading edge technology film products with beautifully printed and appealing images on them. Our enhanced in-house graphics and printing technology will ensure your product will be able to outshine your competition on the retail shelves.We won several major international awards for our rotogravure quality flexographic print work.
Our engineering team can custom configure your film, so it meets the exact requirements down to the smallest detail. By selecting the appropriate extrusion process, we make sure that you get the colour scheme, gloss and durability that you have envisioned. We can custom design specialty products like anti fog film, breathable film with micro perforations, anti static film, or bi-axially oriented polypropylene ( BOPP ).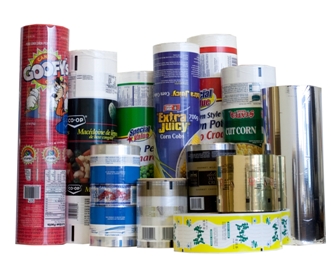 Plastic film product groups by Polynova:
Coex and laminated barrier roll stock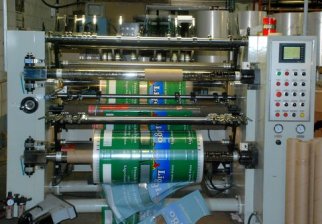 We supply solutions for a wild range of barrier film applications. The number of the possible configurations of our multi-layer film is literarily infinite. Whether you need packaging for your frozen food brand, or for a pre-packed heatable meal, we can supply you the right solution. We are able to meet the most sophisticated barrier property requirements for heat, light, Oxygen and air, moisture and powder.
Our barrier films include CPP, PET, EVOH, metalized PP, foil, TOPP, VMPET. For special requirements, like automated packaging, we supply super sealing and thermoforming films. Our 7 layer Nylon/PE film has been a price leader on the North American market and or barrier films are FDA and CFIA approved.
Low density poly roll stock
The monolayer polyethylene film is predominantly used by our customers for handle bags and general flexible packaging applications like geo-membrane film or mailing bags.
Biodegradable roll-stock
All our film products are available in biodegradable versions, apart from our food packaging solutions. Upon your specification, we are able to control shelf life of the product within a 6 to 36 month window by using the appropriate proportion of additive in the given film product.