Die-Cut Handle Bags by Polynova Plastic Manufacturing Company
The Polynova die-cut handle bags are a great choice to provide your customers and clients with bags for carrying your speciality products. The large imprint area with the high gloss, high intensity print is excellent for showcasing your brand.
Bags can be also used as a smart promotional item beyond a regular retail environment for events such as trade shows and conferences.You can further strengthen the environmental appeal of your company by using one of our green shopping bag solutions. We offer biodegradable bags that completely degrade between 90 to 270 days without leaving a trace of pollution behind. You may also choose a starch based resin poly film to lower the carbon footprint of your packaging. By using a specific film configuration, we ensure high durability and puncture freeness of your bags by making them totally reusable. We always encourage our clients and their customers to recycle our shopping bags.
Perfect, high density and high gloss rotogravure quality print of your of your images, whether you are promoting a movie, a new CD release or your newest clothing line
Choice of reinforced handles including patch handle bag and fold over handle bag
Any conceivable size or shape; custom film configuration for special effects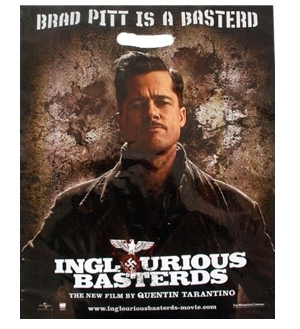 Contact our sales team to discuss the specification of your die-cut shopping bag.