Reusable Tote Bags
Here at Polynova, we are proud to offer our customers a range of woven and non-woven reusable tote bags. These reusable heavy duty bags are available in a myriad of colours, handles, and styles. They usually come with a large imprint area on the front so they can serve as a personal advertisement for your company. Wherever these bags go, your advertisement goes. These bags are resilient, long-term and durable and will keep your customers coming back for more!
See our gallery for ideas for your next project. Contact our friendly sales staff for further information and custom quotes.
Our bags are made of the finest non-woven or woven fabric. We will make your very own custom designed bag with your company's logo as well as any artwork that you choose. Any color, any size that you request, we are able to design your special bag that your customers will simply love!
By designing the appropriate raw material, the plastic film type, and the appropriate manufacturing process, we create the most innovative bag for your brand and product.
Our reusable tote bags can be used for shopping, trade shows, electronics, courier or packing goods.
They can also come in the form of a special promotional bag like a foldable umbrella case.
To meet your custom specification we select the most appropriate plastic film material to use for your tote.
The film types we can consider include LDPE, HDPE, CPE, PPE, PP, OPP, PVC, non-woven cloth or biodegradable material.
You can have a reusable tote bag with reinforced sewn handles, stitched seams, side and/or bottom gussets, hemmed opening, covered cardboard bottom insert, or front pocket to list just a few of the options available.
Also, the bags can be made highly tear resistant and water repellent.
What's more, the reusable tote bags can give your brand an eco-friendly boost in the eyes of environment conscious consumers.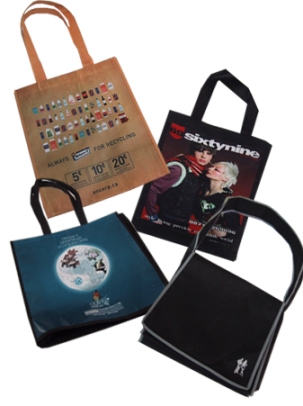 At Polynova, we have learnt from our customers that many times, especially if you are in consumer goods retail, you need fast response time in the face of pressing deadlines. Over time and with years of experience, we have become a rush order specialist. Contact us now!