Biodegradable and Environmentally Friendly Plastic Packaging - Sustainability
As a packaging supplier of leading consumer brand companies, we believe that the issue of sustainability is increasingly important. Preserving our environment is our responsibility as a corporate citizen, but in addition, it is also a business duty for us. Many of Polynova's customers are becoming progressively concerned with following green practices in their production as well as their packaging processes and methods.
We want to make sure that we supply the packaging solutions that meet the most stringent sustainability standards. Through our advanced technology, we are able offer green solutions to significantly lower the carbon footprint of traditional packaging solutions in many ways.
Call Polynova at 800-844-0363 or 604-448-0363 to discuss your sustainable flexible packaging requirements today!
Sustainable Packaging Solutions
Plastic Pouch Bags for Food Packaging to Replace Tin Cans
Innovation and advanced technology has helped us begin production of barrier and laminate plastic film based packaging that can literally replace all tin can food packaging. The advancement in plastic packaging technology allows the manufacturing of plastic packaging that has the same qualities as cans. Our food pouches can be used for any application, whether it is frozen food, liquid or boilable food packaging.
In a simple approach, the carbon footprint of the given packaging material is linear to its weight. Plastic food packaging weighs anything from about one fifth to one tenth of the weight of the corresponding can food packaging, effecting a significant decrease in carbon footprint of the given product.
Better yet, plastic packaging is easily recyclable and there is no need to separate paper labelling from the main material, as high quality printing is borne by the plastic film itself.
Contact us now to learn more about our food pouches and barrier plastic film packaging solutions.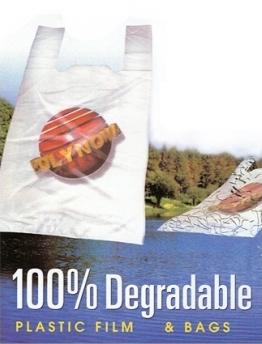 Recycle
With our co-extrusion capability, we can add up to 50% recycled resin in the middle layer of our co-ex line and use virgin resin for the outside layers. The resulting film has the quality and texture of new film but also has recycled content.
Bio-degradable
Polynova has pioneered in North America the use of bio-degradable additives in our film. This allows total degradation of the plastic film after 3-4 years. Up to 30% of our customers for the retail handle bags have requested this feature. We are also working with suppliers on the latest degradable additives to meet international bio-degradable standards including the US ASTM-6400. In addition to bio-degradable we are producing film with 100% starch resin and also hybrid starch/poly resin that provide our customers with further options to increase the sustainability of their packaging material.
Reusable
We supply a full range of reusable handle bags, the most popular being the non-woven bags and foldable nylon bags.